The Shop
The year is 1960. One day, Vítor Castro, still a young boy, noticed on his way home from school a cross hanging above the door of the local tailor's shop and a notice informing of his death. He told his mother, and a short time later Maria Cristina Castro was deciding on the decoration of her new shop, taking inspiration from other Lisbon establishments and hiring a carpenter she could rely on. It was the carpenter who designed the wooden door with filigree arabesque pattern that is the main presence in the space. Vítor Castro remembers the strange name he went by: "the poet from Rua dos Prazeres". Then an equally masterly painter created the gold-leaf floral compositions and borders that decorate the space. Today, Vítor himself looks after the shop, despite having chosen a different career and worked for an airline. He recognised that a shop like this had to be preserved. Today, it is mostly tourists who appreciate what the shop has to sell, no matter how much Vítor extols his wares in Portuguese, holding a stretched out cloth, with intensity in his voice:
- "Look, perfection doesn't have a wrong side!"
---
Perfection doesn't have a wrong side... The deep philosophy expressed in the phrase relates to a specific aspect of the art of good embroidery, which Vítor impressively demonstrates by showing both sides of a sheet or cloth. The right side really is indistinguishable from the wrong side; the front is the same as the back. Working by his side, Gertrudes and Maria José are the embroiderers responsible for many of the shop's most beautiful pieces. The rest come from those parts of the country where hand embroidery strives to exist: Madeira, Viana do Castelo, the coastal towns where bobbin lace is still made, bed throws from Castelo Branco, "lovers' handkerchiefs" from Minho, and other regional traditions.
In addition to this Tour of Portugal of embroidery wonders, the shop also puts together complete trousseaus for brides and new-born babies, and sells night shirts, towels, bedlinen, duvet covers, table centrepieces, napkins and linenwear. It also takes on restoration work for dresses and other valuable pieces, applies lace and carries out personalised work based on the customer's own ideas and requests – be it to copy existing table linen or add a personal touch or image. There are those who like a particular flower, bird or maybe a butterfly – anything the customer wishes can be embroidered. Vítor Castro is particularly proud of his royal and celebrity customers, and takes great pleasure in telling everyone that even Amália Rodrigues would come to the shop and sing for the embroiderers.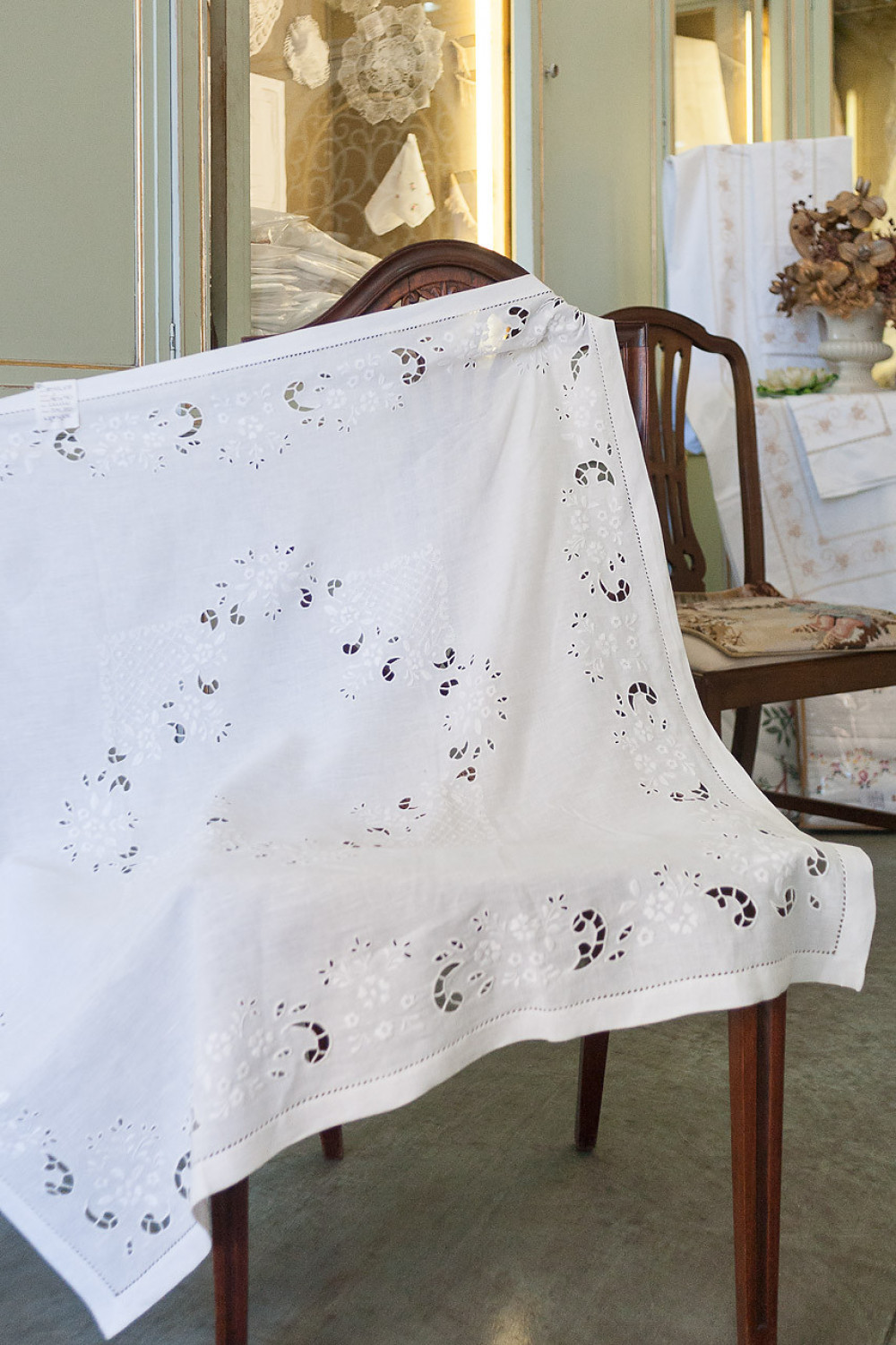 Products
& Services
Bridal trousseaus, complete outfits for babies, hand embroidered articles