The Shop
When it first opened in 1930, this shop was a grocery store with a wide-ranging offer, including other types of canned goods, sweets, beans and sausages. Twelve years later, when it took on the name it goes by today, it became almost exclusively specialised in that for which it is a city-wide reference today: canned fish conserves. All kinds of fish and seafood popular on the Portuguese family table: cod, sardines, tuna, salmon, octopus, mackerel, eel, trout – and mostly all caught in Portuguese waters. The secret to the Conserveira's success is, to a large extent, the quality of the fish. The samples we tried provided sufficient proof, even if we didn't come close to covering all the types the shop sells: fish in olive oil, lemon juice, spicy sauce, tomato sauce; tuna mousse, smoked octopus, mackerel with garlic and parsley, stuffed squid or rolled anchovies with capers in olive oil… Indeed, one could have a different recipe every day for a full year. This wide choice of tastes is organised into three main brands: Minor, Tricana and Prata do Mar. Generally speaking – this is not an exact science – the Minor brand covers smaller fish from southern waters. Tricana is more for larger fish from the north.
---
Despite the (almost) exclusive focus on fish, the "almost" allows for the inclusion of similar products such as quality olive olices, preserves and jams, chutneys, canned tapas and a culinary curiosity: Kasutera (apparently mimicking the Japanese pronunciation of the word castela [Castile]), which is basically an interpretation of Iberian-style sponge cake (also known as "Castile cake") for the Japanese palette. It arrived in Japan through Portuguese merchants in the 16th century and became a traditional speciality in Nagasaki. It returned to Lisbon thanks to Paulo and Tomoko Duarte, who opened the "Castella do Paulo" tea house in the neighbouring Rua da Alfândega. When that shop closed a few years ago, there was no one in the city who could keep the recipe alive, and the current owner of the Conserveira and his mother stepped in. Today "Castello do Paulo" still exists and continues to offer this fortunate Portuguese-Japanese marriage in an establishment in Kyoto. And we in Lisbon do not have to go without our Kasutera, be it the honey or green tea variety… So, behind a combination that does not appear the most logical – sponge cake and fish conserves – is a nice story of synergy and mutual help between shops and shopkeepers. Those that close or change and pass on recipes, lend resources and influence tastes, and those that remain to tell the story.
---
Other relationships can be established between the shops in this street named in honour of cod fishing – a street that practically enters into the shop thanks to the Portuguese paving. The Conserveira is a shop that has an open relationship not only with the neighbouring establishments but also with the city and its cultural life.
This life project has always involved investigation into achieving a balance between the gastronomic experience and the social and cultural experience. It is reflected in simple things such as the inviting bench in the shop, which reminds one of the days in which the customers followed a different pace and they would sit down for a chat with the shopkeepers; and also in the various projects the Conserveira has organised or sponsored. One example is the "Música Com Lata" (Canned Music) programme in 2013, where musicians were invited to design and present their own personal versions of cans of fish conserves, which were then sold in the shop. At the launch of each such "special edition" the respective artist performed inside the shop. It attracted crowds that spilled out onto the street, leaving a mark on the local atmosphere. Man does not live from fish alone…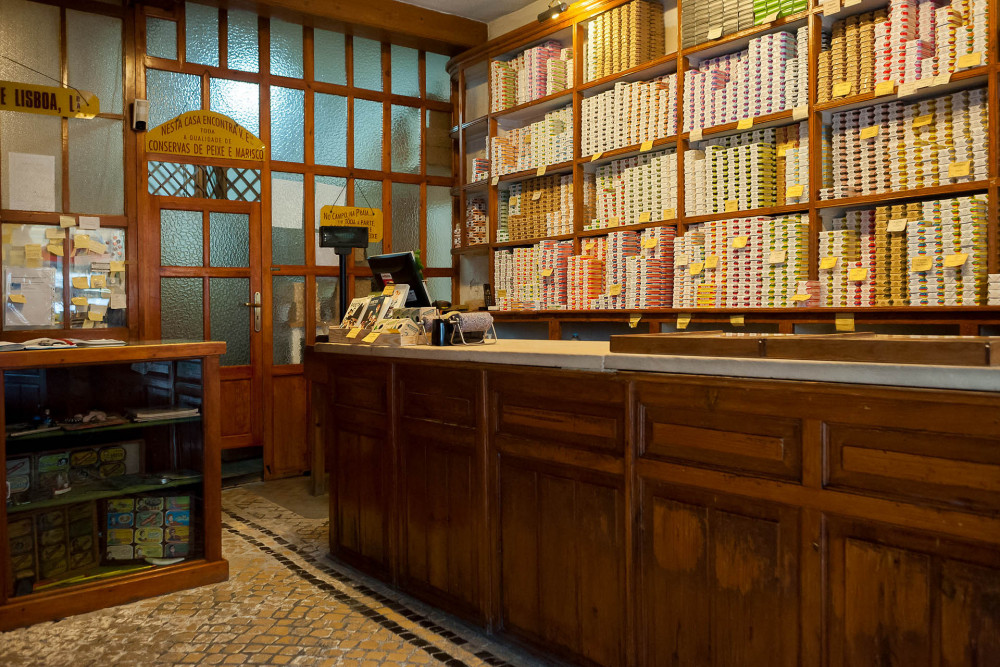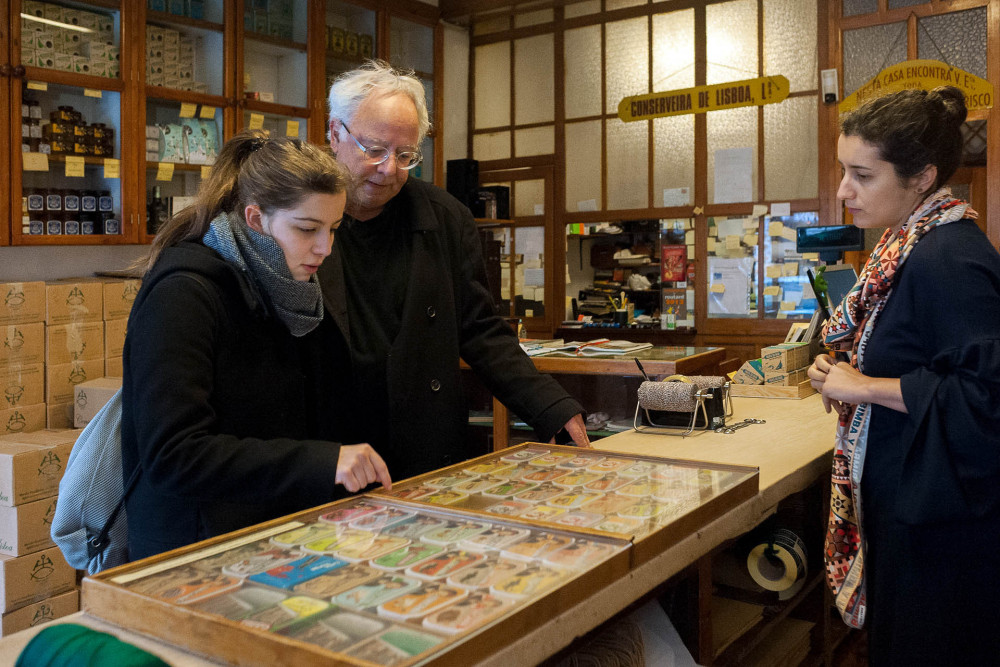 Products
& Services
Fish conserves