The Shop
"Althea root"
"Strong ointment"
"Cyclamen ointment"
"Mother Thecla ointment"
"White ointment"
"Mezereon pomade"...
To the uninitiated this may read like a list of ingredients for a magic potion. Indeed, in the early days of herbal remedies and apothecary, medicines and magic were easily confused. Today, however, things have changed. The aforementioned concoctions are simply names on the labels of bottles the visitor's eyes are drawn to when waiting to be served in the Farmácia Barreto.
---
The pharmacy also displays diverse old instruments and accoutrements of the apothecary's trade, which gradually gave way to the more modern profession of pharmacist. All these are displayed in expansive cabinets of dark cherry wood, which harmonises perfectly with the bronze lamps, cut glass, and stucco ceilings. One could be forgiven for thinking it's nice to have a physical complaint now and again – but nothing serious, just something that disappears on first treatment – just to see the pharmacy's interior.
The pharmacy was founded in 1876 by an Italian man, who ironically preferred to call it the Farmácia Francesa [French Pharmacy]. Later it moved to its current address and took on its current name, now under the management of Carlos Garcia Barreto. This was probably in 1880, according to the earliest records available.
The aforementioned interest in the history of the profession and collectible items also explains how this pharmacy has come to make some significant contributions to the current Museum of Pharmacy. It donated many of the objects exhibited at the museum, including faience receptacles, labels, and an impressive two-metre-wide mixing table with a marble top.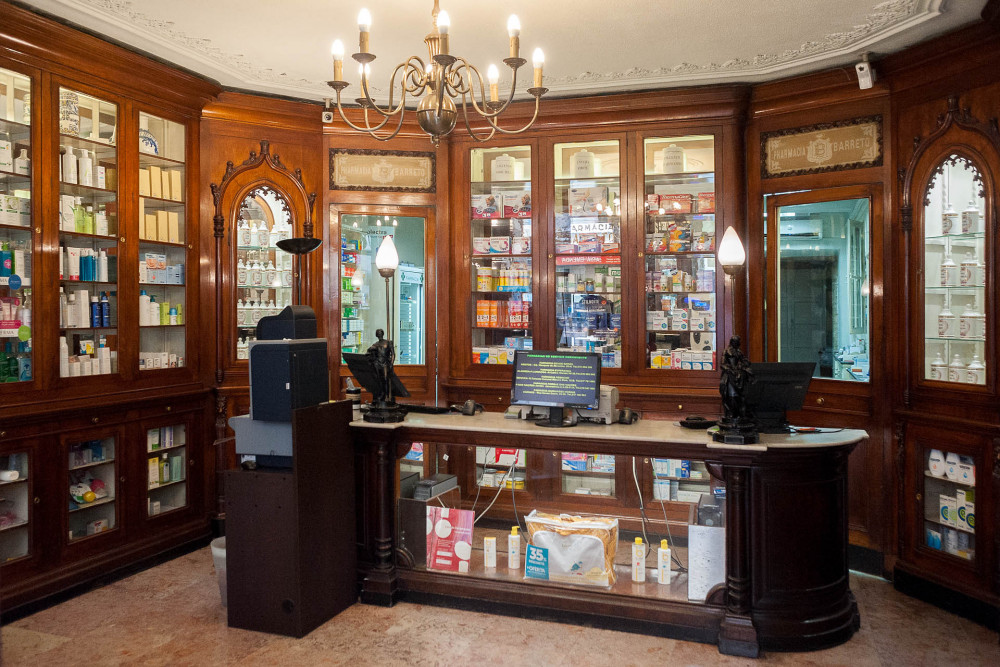 Products
& Services
Pharmacy services; medicines; cosmetics; personal hygiene