The Shop
 There is an important parallel to be drawn between this shop, what it sells, and what is happening in Lisbon and so many other large cities around the world – the urgent need to protect biodiversity. Seeds that can be passed from farmer to farmer on a small scale are at risk of disappearing, just as traditional, local, self-owned shops, are also currently under threat. Our own shops – our own seeds. The threat comes from large multinationals whose business approach is that of the monoculture: Lisbon is the same as Barcelona, all places are alike, regardless of latitude or longitude. The standardisation of the world in all its different aspects. In certain cases, it is really important to safeguard traditional practices and products (the shop and the seed) and biodiversity (of species, plants, shops, trades, products…).
---
Soares & Rebelo is one of the last shops of its kind in Lisbon. It was strategically located next to the former Praça da Figueira market, then one of the most important sources of supplies for many shops in Lisbon. At the time, the Lisbon suburbs were still very much rural in character and farmers would come into town to stock up on seeds for the gardens and farms. It was precisely for this reason that Manuel Martins Rebelo and Luís Soares established their shop here. Later, after the death of the founders, the shop became the exclusive property of the Rebelo family. Today the market has gone, but the shop still offers its range of fruit and vegetable seeds, seeds for forage plants, and for beans and peas, oleaginous fruits, and melliferous plants. It also stocks seeds for hybrids and the infamous "terminator" seets, so called because they are articifially modified to produce only one harvest.
---
If you don't have much space at home you can always buy seeds for herbs (coriander, basil, parsley, rosemary, thyme, oregano, etc.), potted plants and flowers. All the seeds can be purchased in amounts ranging from 2 grams to a metric ton. The store also has its own lines of seeds. The "Hortelão" line is trademarked and is dedicated to vegetable farming plants; the "Jardineira" line is aimed at the amateur vegetable gardener. The seed selection and packaging is carried out at the firm's workshop in Rua João das Regras. Occuping a corner site facing the square, the shop's façade is easily recognizable with its painted green and white stripes. This pattern is repeated on everything – from the awning to the seed packets and the shop's interior decoration.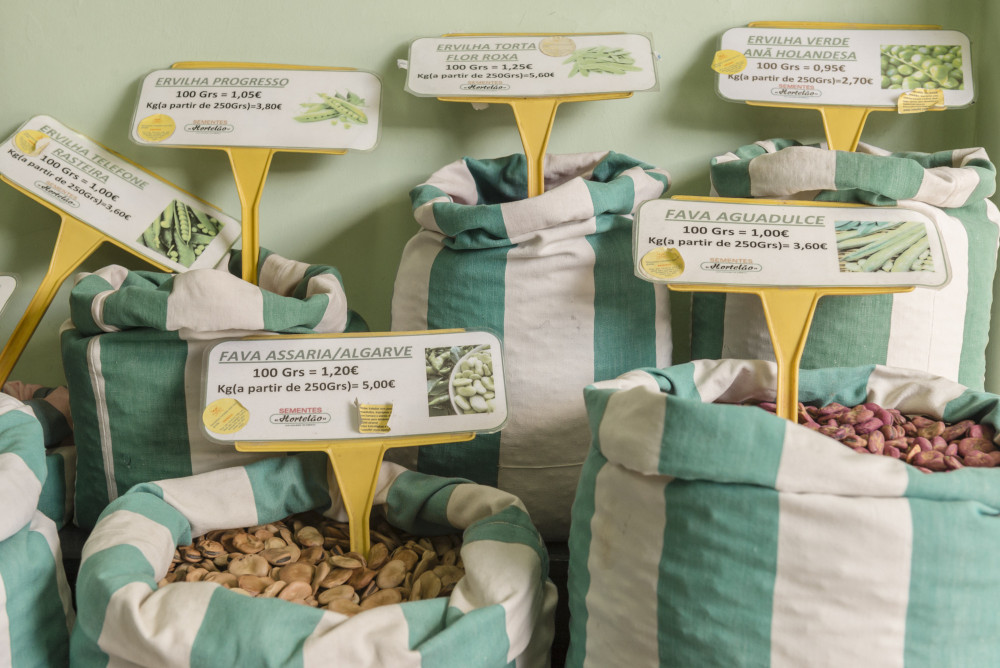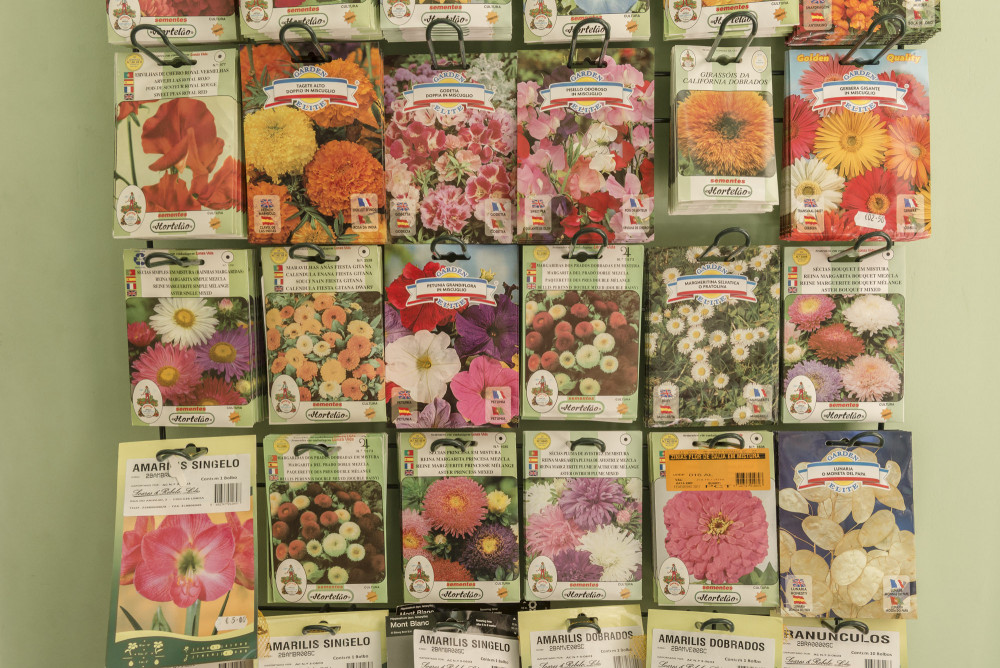 Products
& Services
All kinds of seeds