The Shop
Together with Casa Achilles, this Historic Shop represents the local efforts to conserve what one could call typical Portuguese hardware and ironwork. It was founded in 1922 by Luís Guedes da Silva, who sold in the shop the items he produced in his foundries. Today the shop plays an important role in the proactive conservation of the industry know-how, particularly with regard to rough casting or the use of moulds, many of which were produced in-house.
---
At the doorway, the shop sign made of iron pipes on the door and the brand name rendered in Portuguese paving on the ground mark the entrance to an ample space lined with lots of wooden drawers featuring the pieces they contain shown on the outside – a constellation of metallic shades contrasting with the dark wood. The shop sells just about every item that one may need to complete a piece of furniture or open or close a door, a window or even a safe. Above all, hardware in cast brass, keys and locks, door handles and stoppers, numerals, rings and door knockers, hinges, end pieces for curtain rods, hooks and much, much more. The workshop also makes certain items to order and can carry out chrome plating and other types of oxidation.
Everything here is for sale – despite the somewhat rare aspect of certain items, which are no certainly no longer available anywhere else. In the back of the shop the collection continues, arranged in a small labyrinth that begs the eye to take its time perusing. For one has no idea where one might come across little treasures, such as the handle designed by the French stage designer, costume designer and decorator who spent practically all his life in Portugal, Lucien Donnat.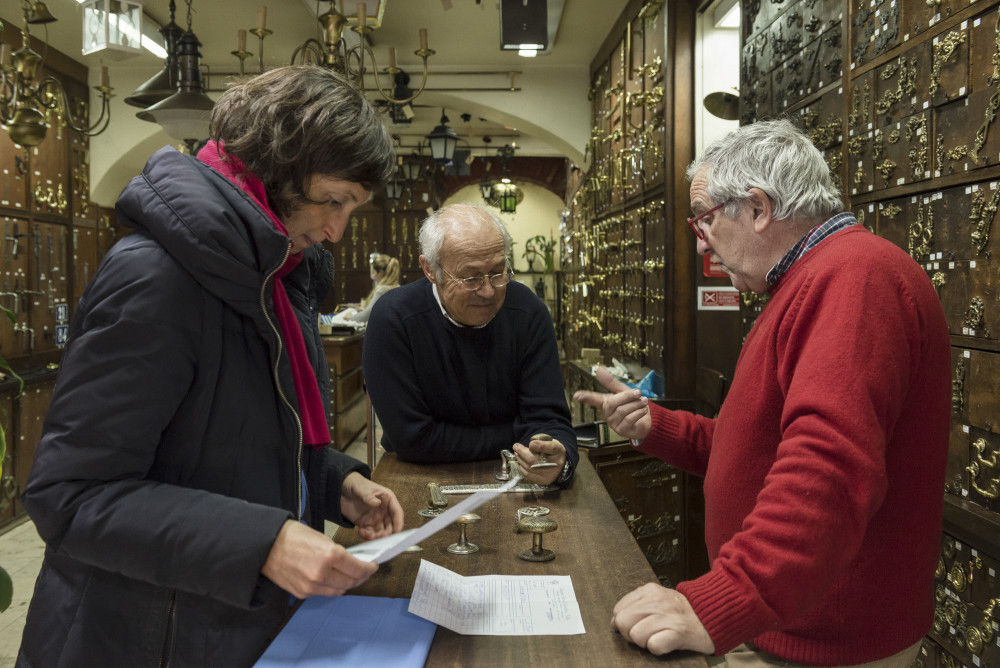 Products
& Services
Brass hardware; door handles, hinges and all kinds of hardware for furniture;
Reproduction of existing and creation of new models; chrome plating and other forms of oxidisation